BikeWeek 2003
Feb. 28 - March 9, 2003 The 62th Anniversary Bike Week
Video page. . Pictures page.
Feb 27, 2003.
We had rain for most of the beginning of the day.
You can see in the second live video that the police is starting to set-up the crosswalk across U.S.1 for the people to go between the Iron Horse Saloon and the Jackson Hole and the Broken Spoke on the other side of the road.
Tomorrow the police should have the spotlights operating at night in the middle of the road.
Second live video of bikeweek. Down until next bikeweek. 32kbps live stream. The camera is pointed toward the Iron Horse Saloon. Windows Media Player is required to see the live video.
The video is clear and only a 28k modem is needed.

Feb 28, 2003. Friday
Rain, rain, rain, and more rain.
View NOAA National Weather Radar
The first live cam will show the rain in the sky and the second cam will show you the rain on the ground.
Someone made a comment about sound. The sound will be up by Sun. or Tue.

March 1, 2003. Saturday
Rained this morning but the weather is still warm. Might be cloudy for the rest of the day like the last 2 days.


March 2, 2003. Sunday
Rain again.
This afternoon has been nice today.
City of Daytona Beach has done it again. The www.daytonaharleydavidson.com is moving the dealership to north of Ormond Beach at I-95 and U.S. 1 which is 2 to 3 miles north of Iron Horse Saloon. All their bands and events will be found there next Bike Week. This has been reported in the local newpaper on Feb. 26, 27, and 28.
www.bikersparadise.com is the people who is running Bike Week at the New Smyrna Beach Speedway.
The BattleBeach people is setting up their stage today.

March 3, 2003. Monday
Rain this afternoon. At least it is better than cold or snowy weather.
Rain, rain, rain, rain, rain, rain, rain, rain, rain, rain, rain, rain, almost like summertime weather.

March 4, 2003. Tuesday
Today is to be the last day of rain.
Rain, rain, rain, rain, rain, rain, rain, rain, rain, rain, rain, rain.

March 5, 2003. Wednesday
Partly cloudy today.
We should have a third camera up with sound tomorrow.
For people looking at only the first camera, it is our weather camera.
The second camera looks at the Iron Horse.
The third camera will look at U.S.1 with all the bikes riding by.

March 6, 2003. Thursday
The only day of sunshine and warm weather all day.

March 7, 2003. Friday
Nice morning and then the rain at noon.


March 8, 2003. Saturday
Another crappy weather day. Cloudy and light sprinkles all day.
Also a note, the first cam does not need to be cleaned because you cannot see more the 1.5 miles due to all the light rain. This is called Florida weather.
We will have videos of north Ormond Beach and pictures of Main Street and Beach St. online late tonight or early in the morning.
As always we will be covering the parade on Sunday.
-
Battle Beach will be coming back to BiketoberFest 16th-19th. Check out the videos on the video page.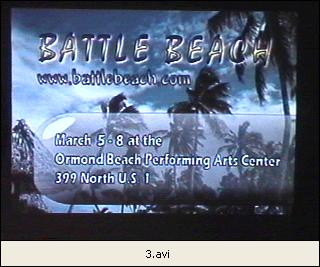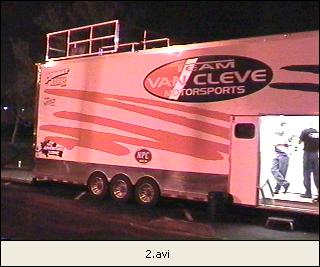 March 9, 2003. Sunday
The Parade There is 170 photos of the parade.
It was hot this morning with no sun. A little foggy if you were up 7:30 in the morning. From the pictures of the parade you could see no rain and a so so day.
But again in the afternoon, RAIN. Rain, rain, rain, rain, rain, rain, and rain.
All the vendors of bikeweek should have been selling rain gear instead of leather.
======
Feb 2, 2003.
Currently there is a live video broadcast on our video page.
Feb 16, 2003.
Two days ago I noticed a website linked to us to describe to their members what bikeweek is. The members are from BattleBeach (if your heard of BattleBot, they are a similar group). They will be in Ormond Beach having robot wars during bikeweek.
I brought this up because half of the new xxx(so called american made bikes) riders(in the last 5 years) are CEOs, engineers, and other high paid professions who can afford those overpriced, not made in America bikes are the type of people who go and enjoy the robot wars. The above event is like going to demolition derby, wrestling match, or football game where they can see death and destruction.

START of My analysis and rant for bikeweek this year.==
There are two centers of bikeweek growing. One is north Ormond Beach (really the county but Ormond Beach wants to annex it) where our live video feeds are and the other at the New Smyrna Beach Speedway(a short trip away from the Cabbage Patch). Why? Too many people and the City of Daytona Beach are starting to complain more and more about the bikers. To the City of Daytona Beach, if you don't watch it you will become like Holly Hill (the city north of you) another dead city not capable of growing or attracting new business.
To the corporate company that care only about their image, you are going to crash like a dot com and the telecom because you don't care about your some of your customers and some of your dealers that you have already forced out of business and because of greed. You guys need to talk to your long time dealers, mechanics, and customers.
We are listed number 2 in the search engines right behind the Daytona Beach Chamber of Commerce which is the Official Daytona Beach Bike Week web site. They were jealous 4 or 6 years ago because we had about 200 people a day coming to our website and they almost had nothing. At least when you come to us we don't hit you with a popup banner and 8 graphic advertisements on the page (BAD BUSINESS since they are the Chamber of Commerce). Remember we give your Bikeweek the fastest and easiest way, no banners, no heavy graphics, and no nonsense. We cater to the international crowd, people who cannot make it, and to the people with slow internet connections (we also have some high speed stuff).

Also when you come for bikeweek you will see and hear a lot of SAVE THE LOOP (I did not realize this site has no specific content on it. PLEASE VERIFY THIS IS A NON-PROFIT ORGANIZATION ACCOUNTABLE TO THE STATE OF FLORIDA FIRST BEFORE YOU GIVE. THIS SITE GIVE NO INFORMATION ON THE SPECIFICS. THIS SITE DOES NOT GIVE THE HISTORY TO THE PROBLEM. MORE LOCAL POLITICS. GET RECORDS OF CITY AND COUNTY MEETINGS AND INFORMATION AND THE INFORMATION ON LAWSUIT IN FLAGLER COUNTY OF CITY NOT FOLLOW CITY AND COUNTY PROCEDURES) Get the whole story, not part of it. The truth hurts(both sides) in this town is probably why they don't tell you everything and probably be sued by the developer (look at the official Bike Week site to find out what the the Loop is).
Developers are trying to buy and build in the preserve (swamp). Any new home that is built in this county is built on swamp land. Every time we have extremely heavy rain, these houses built in the swamps tends to flood. There is not much highland in this county.
END of My analysis and rant for bikeweek this year.==
Feb 23, 2003.
Today is a sunny, clear and cool day. Perfect day to ride your bike. If you are a little cool, just stop and the sun will warm you up.
Second Live video of bikeweek. Down until next bikeweek. The camera is pointed toward the Iron Horse Saloon.

Email us at bikeweek1@realacom.com
if you have comments, items you want to see, or
lawsuits you want to charge to us(because we speak our mind).
We will post it if it is useful for the purpose of bring you bikeweek.
Calendar of events at Bike Week 2003

©2000 Realacom Internet Services
Designed by Realacom Internet Services